The Jean Banchet Awards for Culinary Excellence, the local James Beard-like awards of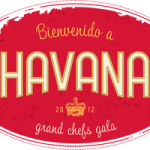 the restaurant world, announced winners at a benefit for the Cystic Fibrosis Foundation on Friday Night. The ceremony was hosted by WLS-TV personality Steve Dolinsky and master sommelier and host of Check Please Alpana Singh at the Fairmont Hotel.
Forty-four exceptional chefs, sommeliers, mixologists, restaurants and catering companies provided the food for the annual Chicago awards and, for the first time, the nominating process was open to the public.
Marcella Hudson, Tod Barber, Robyn Jones and Carissa Shaffer
from Francesca's Restaurants.
The event brought together the who's who of Chicago's restaurant scene and some 700 guests who enjoyed cocktails, appetizers and a seated dinner by guest chefs, restaurants and The Fairmont Hotel. The awards were part of the 15th annual Grand Chefs Gala hosted by the Cystic Fibrosis Foundation and raised close to $200,000 to help fund research to find a cure this deadly disease.
Cindy Kurman and Jimmy Bannos
Chef Jimmy Bannos and chef/restaurateur Scott Harris were honored with the Founders' Award, awarded to those who "significantly affected lives in a charitable or humanitarian way."
2012 Jean Banchet Award winners were:
Chef of the Year
Ryan LaRoche,
NoMI
Dan Pancake,
Autre Monde
Giuseppe Tentori,
GT Fish & Oyster
--

WINNER
Andrew Zimmerman,
Sepia
Pastry Chef of the Year
Bryce Caron, Blackbird
Meg Galus, NoMI
Amanda Rockman, The Bristol -- WINNER
Cindy Schuman, Sepia
Chef-de-Cuisine
Dave Beran, Next -- WINNER
Sean Pharr, NoMI
David Posey, Blackbird
Brian Runge, Graham Elliot
Rising Chef
Chris Curren, Blue 13
Danny Grant, RIA
Chris Macchia, Coco Pazzo -- WINNER
Paul Dobroski, NoMI

Rising Pastry Chef
Aya Fukai, RIA
Sarah Jordan, BOKA -- WINNER
Stephanie Mazzone, Coco PazzoKady Yon, Pump Room at Public Chicago
Best Sommelier
Scott Harney, Eno at the Intercontinental
Michael Muser, The Peninsula Chicago -- WINNER
Dan Pilkey, RIA
Aaron Sherman, NoMI
Best Mixologist
Stephen Cole,
Barrelhouse Flat
Lynn
House
,
Blackbird
Debbi Peek,
The Bristol
Josh Pearson,
Sepia --
WINNER
Best Neighborhood Restaurant
Autre Monde 

The Bristol -- WINNER
Maude's Liquor
Bar 
Vera
Best Fine Dining
Blue 13
Coco Pazzo
Next -- WINNER
Sepia
Best New Restaurant
Autre Monde
GT Fish & Oyster
Next -- WINNER
Vera
Best Catering Company
BOKA Catering
Catering by Michaels
Entertaining Company
Limelight -- WINNER
People's Choice Award (Best dish served at cocktail event voted by attendees)The Purple Pig for its milk-braised pork shoulder
Lee Barrie and Cindy Kurman